Regency Sideboard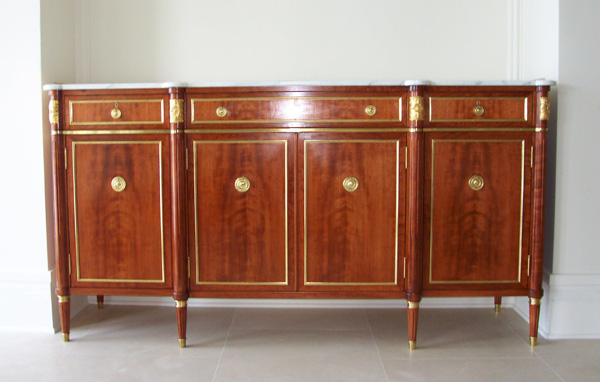 These exceptional sideboards are reproductions of an original credenza by renowned furniture maker Honore Lannuier, c. 1840. I was asked to reproduce this piece for clients who maintain an ongoing interest in American Federal Furniture. They had already commissioned a pedestal-base Regency dining table for their primary home, to match a set of period Chippendale chairs that they had acquired at great effort. Now, in their second home in Naples, Florida, they endeavored to continue their patronage and extend their resources for fine entertaining.
After commissioning another Regency pedestal base table and 12 Biedermeier style chairs for their Florida home, they decided to extend their patronage to a pair of matching crotch mahogany sideboards with detailed brass pulls and banding, and applied ormule decoration. Each sideboard has three sections, with frame and panel doors, two on center, flanked by a single section on each side. Each panel is framed by an inlaid brass line, as are the narrow drawers. Four fluted legs divide the façade, resting on custom brass feet with ormule crests on top, with a band of brass separating the upper drawers. The legs project forward from the plane of the case, and create a sculptural interplay of light and shadow on the facade, and an undulating line on the perimeter of the marble top.
This commission challenged me to create clay molds of period hardware and ormule, then locate metal workers who were able to match this level of craftsmanship.